So a while (long while) I back the Seeed studio RePhone on kick-starter and it arrived a few weeks back. So I decided to try and put it in an old dial phone. Just imagine it as a mobile you can carry around with you!
Wasn't impressed with the documentation and instructions on their wiki. Tells you how to install the drivers then kinda just leaves you. Had to do poking in the library header files to find out what i could make it do. Also it does seam to be lacking in functions. There is no check connection or signal strength.
That all said when you find out what you can do it's really easy. I used the arduino IDE and got it calling in no time.
After finding sparkfuns tutorial where they converted a dial phone to a different GSM board I could get the ringer and dial working.
the mic and speaker where much hard as again the spec on the RePhone is almost nothing. And the SoC that powers it is even more closed. But hey after a lot of playing with large resistors in case I popped something, it finally works :).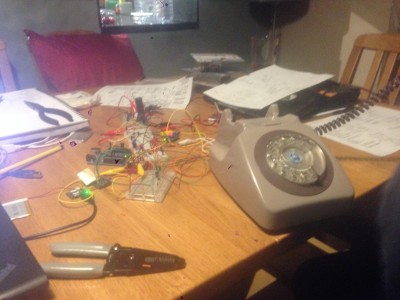 That is the current set up. You can make and receive calls. Oh and the bell sound amazing.
Next I want to get it on proto board and try and get it into the phone. then maybe get a PCB made for it.
I do intend on putting the circuits and stuff up so you can see the interesting goo that makes it work. (intend being the word of the moment, you know me and writing).